Ulrik Petersen started the school in 1960 in his deceased parents' house at Hilside Farm after living with his family and working in the area for a number of years.
It is at Githabai Primary School marked with the set caption, which can be seen by the picture.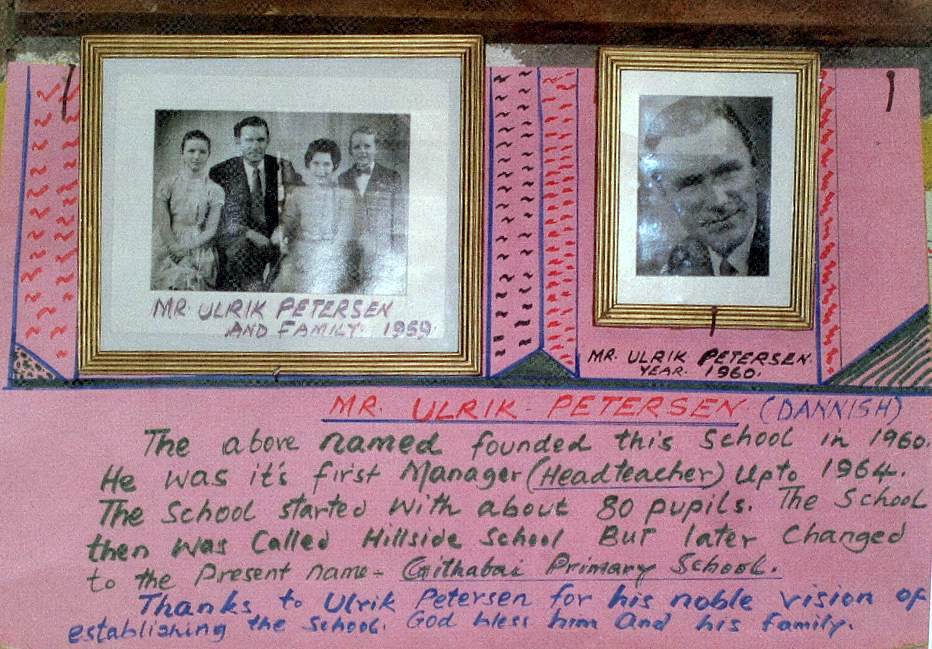 To the property was a 1950s water well which provided the elderly with water and now supplied water to the school staff. The renovation of the drinking water drilling became one of the first projects for the association Githabai's friends.
The Kenyan government bought and parceled out farms run by Europeans up to the independence in 1963.
This was also the case for Hillside Farm, now called Githabai.
The farm was converted into a collective farm consisting of small family farms run by mainly former employees. Over the years, the water pump and the technical installations went on. The population chose to seal the borehole and await reopening opportunities.
Ulrik Petersen's children Nils Ulrik-Petersen (vice-chairman) and Karen Ulrik Petersen (chairman) were born and raised at Githabai and will now try to help the population (many families are descendants of former employees on the farm), as the need for help to the area is incredible large.
Therefore, the association Githabai's friends started on October 20, 2005, and efforts are being made to obtain the necessary funds.